Kenya's Baringo County is home to several pastoral communities whose livelihood depends on cattle. These communities are also known in Kenya for cattle-rustling. The scramble for pasture and water often leaves people counting their losses. In many instances, death and injuries are reported, on top of the animals stolen.
The main communities in Baringo County are the Pokots, Ilchamus, Kalenjins (both Tugen and Endorois) and Turkanas. The mistrust between them is deep. Various individuals and organisations have attempted to build bridges but it has been a challenge. Until there is trust, it will not be possible to manage shared resources in a sustainable way that benefits all.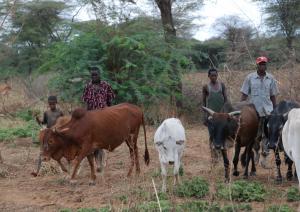 Thirty-five leaders, representing all the main groups, gathered in Marigat town, near Lake Baringo, from 20-22 April, for a workshop entitled 'Trust-building for sustainable development.' Many came in their beautiful traditional regalia. Women, youth and the elderly were well represented. The workshop was inspired and supported by REDL – Restoring Earth's Degraded Land – a programme of Initiatives of Change International. It was implemented by two local NGOs in partnership with Initiatives of Change Kenya and For the Love of Tomorrow Films (FLTfilms), the film-making unit of IofC.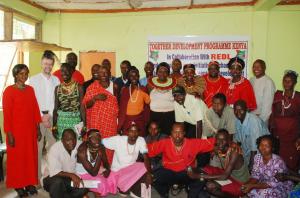 The organising committee was itself a model of an ethnically diverse team working well together. Paul Keitany, director of Together Development Programme Kenya is Kalenjin, his assistant Johnson Ogeto is Kisii; Maryann Ntausian, director of Community Centre for Peace and Development is Ilchamus; Joseph Karanja and Joseph Wainaina, facilitators from Initiatives of Change, are Kikuyus and Dr Alan Channer, Director of FLTfilms, is British.
The highlight of the workshop was the premiere screening of Suluhisho La Kiafrika, the Kiswahili version of An African Answer.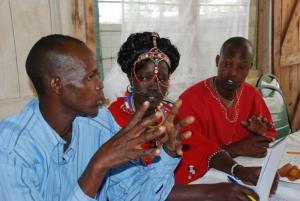 Dr Alan Channer gave the background to the film and after the screening Joseph Karanja facilitated an honest dialogue.
The difference in mood before and after the film was striking. Participants were provoked to open up to one another. Genuine apologies for the pain and suffering the communities had inflicted upon one another were made. At the dining table, a Turkana lady was moved to tears when an Ilchamus youth apologised for his role in the raiding of a Turkana settlement. A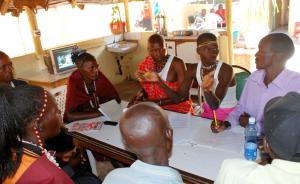 women's leader from Pokot apologised for her hatred towards the others. She vowed to work with all women to bring lasting peace and provide education. A young man expressed regret for a time he had assisted with moving stolen cattle.
The link between conflict resolution and land restoration was brought out very clearly by Paul Parsalaach, Operations Manager for the RAE Trust. The Rehabilitation of Arid Environments Trust is based on the shores of Lake Baringo. It transforms lives and pasture, especially by helping local people grow and manage grass.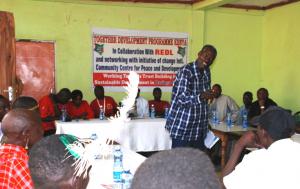 Parsalaach is an example of how pastoral skills were passed from one generation to another. He narrated how his father taught him to herd cattle. Participants were fascinated when he explained how elders used to play a crucial role in maintaining harmony among the different communities. For example, elders from his Ilchamus community used to negotiate with Pokot elders on access to dry-season grazing of swamp land by Lake Baringo. Through this, the communities embraced each other and shared the resources available.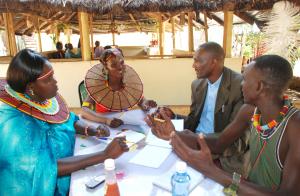 However, as external pressures increased – including political manipulation, the inflow of automatic weapons, drought, increased population pressure and environmental degradation – the youth ceased to listen to the elders and the social fabric collapsed.
After the presentations, each community met in groups to discuss the problems which they face and to search for solutions.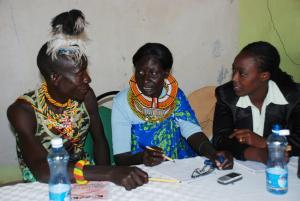 As the workshop culminated, there was unanimity that a working committee should be formed, consisting of all the participants present. The committee will work for peace and sustainable development in the region, encouraging interactions between all the communities.
The communities involved are historically known to defend a cause they believe in. With an inter-community committee in formation, and continued support and appropriate training, it is possible that good news will start coming in from Baringo County.

Joseph Karanja and Alan Channer
Photos by Alan Channer