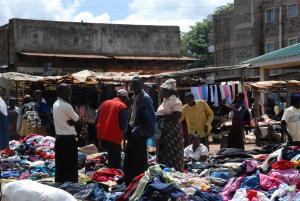 'At times, my teacher would come to school with a gun. If there was no incident in the area before midday, you would be lucky.' Julius Sarich, from the remote area of East Pokot, travelled for a whole day to attend a viewing of the documentary film An African Answer in the Rift Valley town of Kabarnet.
The viewing, on the first Sunday of 2011, was organized by Paul Keitany, representative of the Catholic Justice and Peace Commission in Baringo County and a senior member of the Kalenjin community in the area.
'Scarcity of water, scarcity of grazing, idleness, illiteracy and the availability of weapons are the problems', Sarich said. 'We have never had peace since we were born. We would like a teaching aid for peace like this film.'
Initiatives of Change worker Joseph Wainaina, who fled the town of Eldoret in 1992 after communal clashes left their family home burnt to the ground, said: 'I gathered my children and grand-children together with my wife, to see this film. Afterwards, I asked my six children, who are all now over 18, to write down anything which they feel I may have done wrong as a father. We also said the good things about each other, which we may not have spoken before. This film helps ourselves and our families.'
Keitany urged that the film be made into the Kalenjin languages.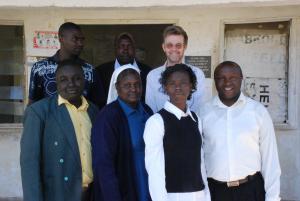 Two days later, Jacintha Ogada, District Officer of the area in which An African Answer was made, received the British director of the film, Alan Channer, together with IofC worker and film production consultant Joseph Karanja, at her office in Burnt Forest. Also present were Location Chief Fred Killy and Sister Macrina Cheruto, peace-building officer with the International Organization for Migration.
'Peace is now prevailing here,' said Ogada. 'The different communities are doing business together, eating together, praying together. We have an inter-group choir. People are saying: "If politicians want to cause bloodshed, let them come here and do it themselves; we will not do it."'
When An African Answer was filmed in 2008, the markets in Burnt Forest were with either Kikuyu or Kalenjin. Today, both Kikuyus and Kalenjins are busy selling and buying wares in the same market.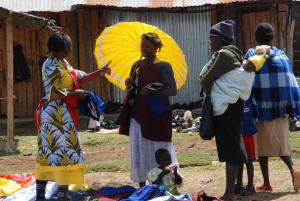 Location Chief Fred Killy looked back at the first visit of Nigerian mediators Imam Ashafa and Pastor James in May 2008. 'The two communities had not come together at that point. There was a lot of bitterness. It is not easy to greet someone after they have harmed you. But with the visit of the imam and the pastor, they became open. When a problem comes out, people will know it and it will be solved.'
One of the Kalenjin participants in the workshop depicted in An African Answer said of his own feelings now: 'They are still there. It is the reaction that has gone down. We have to move on to have peace.' A Kikuyu participant said, 'When I came to the first workshop, I was traumatised. By the end I was changed.'