A dream come true in Eldoret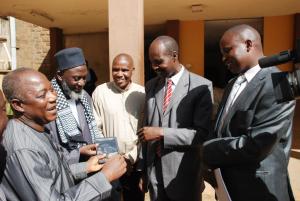 For Joseph Wainaina, to lead a peace caravan in his home city of Eldoret was a dream come true. In 1992, Wainaina and his family had to flee for their lives from Eldoret, after election-triggered clashes between the Kalenjin and Kikuyu communities. His house was burnt down and his aunt was killed. (Read more here.)
Eldoret was also ravaged by post-election violence in 2007/8. Today, the situation is different. Kenya has a new Constitution. Presidential elections in March were peaceful. Eldoret remained calm. 
On 16 May, Joseph Wainaina led the peace caravan, through former conflict hot-spots of the city, with his close friend and co-organizer, Chrisostom Maiyo, former Area Chief of Eldoret, a Kalenjin. They were supported by the local Initiatives of Change team and two local NGOs, the Centre for Human Rights and Development, and Change Agents for Peace International.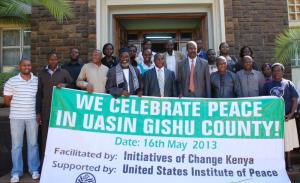 The vision for the caravan arose after Wainaina, Maiyo and others from Eldoret's IofC team attended a 'training of trainers' in November 2012, delivered by internationally acclaimed peace-makers from Nigeria, Imam Muhammad Ashafa and Pastor James Wuye. This training was the first stage in a project 'to transfer the methodologies depicted in the film An African Answer across Kenya'. The project, facilitated by For the Love of Tomorrow Films in close partnership with IofC Kenya, is supported by the United States Institute of Peace and IofC UK.
Wainaina, Maiyo and team worked on a 'Campaign for Clean Elections' before polling day - and planned to take a message of peaceful coexistence around the city after it.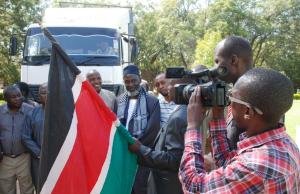 The caravan - a large, open-sided truck with a public address system - was flagged off from Eldoret Town Hall by District Commissioner Christopher Wanjau. As it wended around the suburbs of the city, including former 'no-go' areas, the mood was celebratory. A dance troupe performed at each location.
The whole thing was timed so that Pastor Wuye and Imam Ashafa could join the celebrations in person, and share their appreciation of Kenya's peaceful elections with the crowds.
Wainaina said afterwards, 'I will tell my family that, if they wish, they can now come back to Eldoret'.
Report by Joseph Karanja, Steve Kimaru and Alan Channer
Photos by Alan Channer