The documentary film An African Answer, and the multimedia training package that goes with it, had its United States launch in New York on 25 October.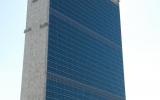 The film depicts a dramatic bid by Pastor James Wuye and Imam Muhammad Ashafa - former militia leaders turned peace-makers from Nigeria - to bring reconciliation in Kenya's Rift Valley province, following communal killings. It is produced by FLTfilms, the film-making division of Initiatives of Change.
The first screening took place at United Nations Headquarters, hosted by the Inter Agency Framework Team for Preventive Action.
Imam Ashafa, Pastor James, the director of the film Dr Alan Channer and Kenyan Production Consultant Joseph Karanja engaged in a one hour discussion after the film with 40 UN staff.
Responding to questions about the situation in Kenya today, Joseph Karanja explained the feeling of many Kenyans 'that when you heal Burnt Forest the area where the film was shot], you heal the whole of Kenya.' He went on to describe how residents of the area look back at the visit of the imam and the pastor as the turning point in their community, how they want their children to remember Burnt Forest as a place of peace and how economic activity has picked up in the area.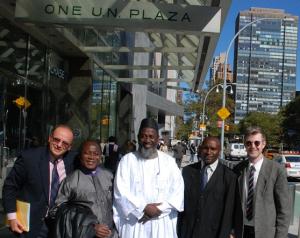 The 8-minute Bonus Feature Two Years Later – which shows on-going developments in Burnt Forest as well as the continuing impact of An African Answer in other parts of Kenya - was also shown.
Gay Rosenblum-Kumar, Executive Secretary of the UN Framework Team, wrote in thanks for 'a highly informative, inspiring and energizing film screening and discussion.... The film captured the hearts and minds of all in attendance. Your work in healing communities and encouraging reconciliation reminded those in attendance of the fundamental importance of organic, community-led processes.'
A second screening took place at New York University, hosted by the Tanenbaum Center for Inter-religious Understanding and two student groups. Joyce Dubensky, Executive Vice President of the Tanenbaum Center described Imam Ashafa and Pastor James as 'heroes' and commended Dr Alan Channer's 'story-telling and truth-telling'. Amongst those attending was the Ambassador to the UN from the Organisation of Islamic Cooperation, Ufuk Gokcen.
John Campbell, former US Ambassador to Nigeria, hosted Imam Ashafa and Pastor James at a well-attended Roundtable on African Answers to Ethnic and Religious Conflict at the Council on Foreign Relations - publishers of Foreign Affairs magazine.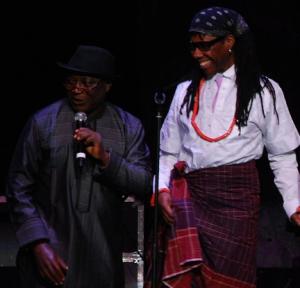 Pastor James and Imam Ashafa also presented the Annual Humanitarian Award at the We Are Family Foundation (WAFF) to Nile Rodgers, world-renowned song-writer and music producer. They wove in something of their own story in a fine tribute to him. In impromptu remarks afterwards, Nile Rodgers said to the 600 people present:
'What you saw on stage I can attest to as true – I have seen it up close. These men were sworn enemies. They were out to murder each other. These men were bad! Now they are best friends.'
Further launch events are currently taking place in Washington DC. Watch this space....
Alan Channer and Charles Aquilina