An end to cattle raids in Baringo
Baringo is one of 47 Counties under a new system of devolved governments in Kenya.
This county has to find a solution to the challenge of animal rustling among it various pastoralist communities. This problem often leaves a trail of tears and pain. Unless peace is worked at as a matter of urgency, Baringo shall remain a distant admirer of other counties in the development contest.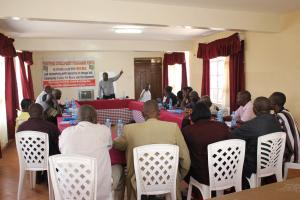 This best explains why a United States Institute of Peace (USIP)/IofC sponsored meeting held on 29-30 March (Easter) in Marigat attracted opinion leaders from the Pokot, Ilchamus, Tugen and Turkana communities.
The meeting, which is part of an ongoing USIP/IofC project, was attended by 25 participants. The government, being a major stakeholder, was heavily represented by four area chiefs and one Head Woman. Present also were two retired senior chiefs and several religious leaders from the said communities.
Rev Nambair, a Pokot from Tangurbei, who has been part of this project process from the beginning, set the pace by reminding those present, and who are Christians, that the blood shed by Jesus is sufficient. No more human blood needs to be shed. It was a great message that coincided with Easter.
Since Baringo's problems are well known, the meeting dwelt more on the cure.
Senior Retired Chief, Mzee Lechuta, an Ilchamus in his 80s, shared a lot of wisdom which set the pace for the deliberations. Daily personal reflection is the key to success. Deep and intense sharing was witnessed.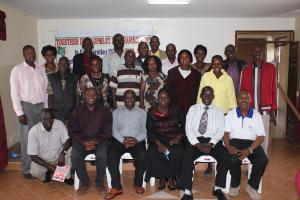 The Pokots were challenged to do more, as all the others perceived them as the aggressors in cattle rustling. With a lot of grace, the Pokot admitted and sought for help to reach out to their communities. Several outreaches are lined up in various areas of Baringo, which is known for its harsh and challenging terrain. These meetings are part of an elaborate plan for a Peace festival and Peace Ritual that will bind the communities to lasting peace.
My role and that of others that are prepared to sacrifice their comfort for the sake of peace in Baringo will be to walk alongside them, listening and if necessary be the bridge to be stepped on.
Joseph Karanja.
Photos by Mbindyo Kimanthi